Congratulations to Our Christina "Family" Graduates!
Bebe Ross Coker, Alumnae of the Year, Morgan State University
Higher Education Achievements
Dr. Bebe Ross Coker

, Morgan State University Alumnae of the Year

Melody Dale

,

Delaware State University, BA in Special Education

Lynetta Fletcher

, Wilmington University, Masters in Elementary & Secondary School Counseling

Carrie Gray

, Wilmington University, Doctorate in Business Administration

Dara Stevens Meredith

, Temple University, Masters in Fine Arts

Kiandra Parks

, Tish School of the Arts-New York University, Masters in Film

Rashawn Scarbo

, West Chester University, Masters in Public Administration

Neysa Rhea Gaines Smith

, Wilmington University, Doctorate in Educational Leadership
High School Graduates
Nickeya Benjamin

,

Fa

irwind Christian School

Frank Clay Jr. (Jabari)

,

Newark High School

Stephanie Finley

,

Cab Calloway School

of the Arts

Darielle Lewis-Sanders

,

Mount Pleasant High

School

Paul Pinkett, Cab Calloway School of the Arts

Briana Powell, Mount Pleasant High School

Alexis Jordyn Rogers, Hodgson Vo-Tech High School
Student & Faculty Talent On Display June 13 & 14
Join Us June 27 and Get Empowered!
Proof Positive: Christina Cultural Arts Center Student Success Story
KENDRA OATES
"I am a proud alumna of Howard University, graduating with a BA in Accounting in May of 2009. I currently work as a Financial Management Senior Consultant for Grant Thornton. As a longtime student at CCAC, I learned invaluable lessons in confidence, leadership and determination."
Clifford Brown Jazz Trumpet Consortium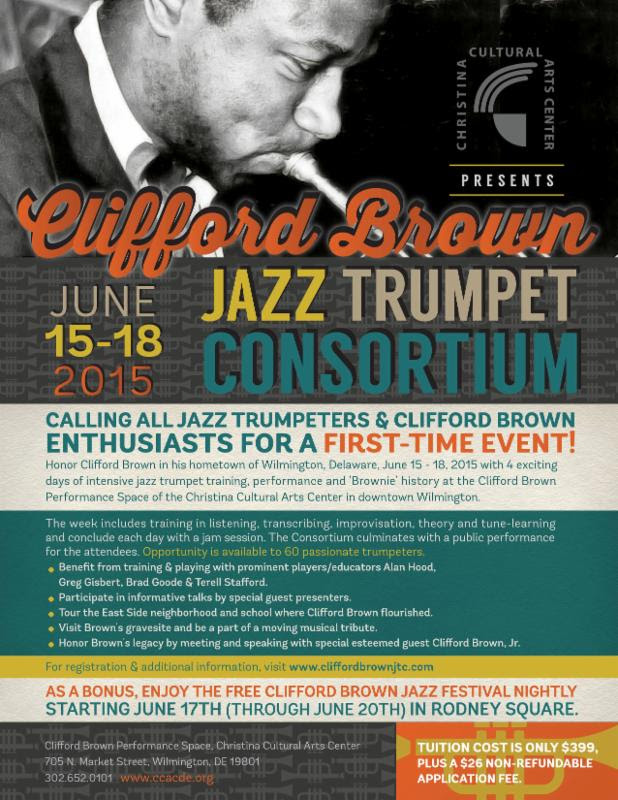 Talks from guest presenters and training in listening, transcribing, improvisation, theory and tune learning concluding daily with a jam session led by inspiring players and educators Brad Goode, Terell Stafford, Greg Gisbert, Alan Hood.
Attendees will tour the neighborhood and school where Clifford Brown flourished, and visit Brown's gravesite in a moving musical tribute. The Consortium culminates with a public performance at The Clifford Brown Jazz Festival!
Christina Cultural Arts Center, Clifford Brown Performance Space, 705 N. Market Street, Wilmington, DE 19801