Wilmington Gets Special Artistic Treat -- Cassandra Wilson Coming Forth by Day: A Celebration of Billie Holiday
A special appearance by Grammy-winning vocalist, Cassandra Wilson.
Coming Forth by Day
is an homage to the beauty, power and genius of
Billie Holiday.
It is a vehicle for the re-emergence of her songbook in the 21st Century. Inspired by the Kemetic texts that give guidance through the afterlife,
Coming Forth by Day
is a collection of musical spells, prescriptions for navigating the myths surrounding her life and times .
Coming Forth By Day
offers the listener interpretations of iconic songs associated with this incomparable, charismatic and revolutionary tone master.
Saturday, March 28, 8:00pm
World Cafe Live at the Queen
500 N. Market Street Wilmington, DE 19801
Premieres
"Concrete Rose"


Dara Stevens-Meredith is a member of the Christina Dance Faculty, serving with distinction for 7 years. She will present her work, "Concrete Rose," to complete her Masters in Fine Art from Temple University. It is a five-section piece inspired by Tupac Shakur's poems "The Rose That Grew From Concrete," and "Can You See the Pride in the Panther?" It sheds light on diverse themes, including "crabs in a barrel syndrome," but has a mutual theme exploring physicality through an emotional journey of fortitude, envy, resilience, collective efforts and determined success, that permeates the entire work. The performance also features Eleone Dance Theatre.
"Concrete Rose"
Friday & Saturday, February 20 & 21, 7:30pm
Tickets: $20; $15 students/seniors; $10 Temple employees; $5 Dance USA Pass. Visit www.liacourascenter.com, call 800.298.4200 or buy in person at Liacouras Center Box Office, 1776 North Broad Street. Monday-Friday, 10am-5pm.
Join OperaDelaware for this upcoming event:
This Little Light of Mine
The Stories of Marian Anderson & Leontye Price
Proof Positive: Christina Cultural Arts Center Student Success Story
Alexis Rogers
"I am currently a senior at Hodgson Vo-Tech High School and have been dancing at Christina Cultural Arts Center since the age of three. CCAC has helped me build confidence and influenced my life in so many positive ways, exposing me to other creative arts areas like drama and music."
Sign-ups 7:00pm; performances 8:00pm
2nd & 4th Fridays
7:00-10:00pm
Christina Cultural Arts Center
Clifford Brown Performance Space
705 N. Market Street Wilmington, DE 19801
COMING EVENTS
MARCH
Women's History Month
Eye Shadow Exhibit
March 6-April 27
Art Loop Opening Reception
Friday, 3/6 5:30-8:00pm
APRIL
Young People's Festival
with special guests
Eleone Dance Theatre
Saturday, 4/18
1:00-6:00pm
Tatnall School, 1501 Barley Mill Road, Wilmington, DE 19807

MAY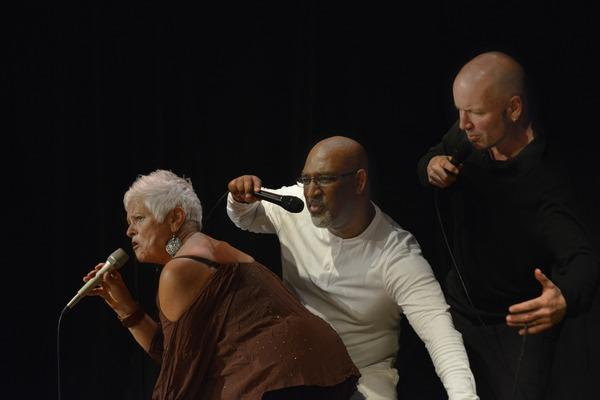 "WeBe3 is one of the freest musical experiences anyone will ever encounter, giving rare insight into the true art of vocal improvisation..."
- Bobby McFerrin
Tickets $15 Advance
$20.00 At Door
Christina Cultural Arts Center, Clifford Brown Performance Space
705 N. Market Street Wilmington, DE 19801
WeBe3 Vocal Workshop for Artists & Community
For regional singers who want to learn to improvise
Advance registration encouraged

$25 Students | $40 Adults