#ModernDaySelma
The Conversation Continues
On January 8, Penn Cinema presented the movie Selma to sold-out crowds and welcomed the community to a talk-back discussion afterward. The event -- sponsored by United Way Revive the Village, the Metropolitan Urban League of Wilmington, YWCA and Christina Cultural Arts Center --featured a panel of local leaders -- including India Williams, Michelle Basham, Raequan Jones, Dr. Donald Morton & Dr. Carol E. Henderson -- who offered thoughts on the movie and ways we can effect change in our community.
Dr. Donald Morton noted: "What I saw reminded me that we are on a good path, but we must be willing to have those 'impolite conversations'."
Motivational speaker India Williams said: "You can't let your past determine who you are...You have to be the change to make change."
Watch for coming details on additional community dialogues and please join in the conversation!
Congratulations Bebe Ross Coker!

Bebe Ross Coker, Executive Director of the Black Heritage Education & Theater Group, was conferred an Honorary Doctorate of Humane Letters by Delaware State University on December 13, 2014. Ms. Coker is pictured with her daughters Laurie Coker Reid, RN and Dr. Joan F. Coker.
Hip-hop, spoken word, comedy, musicians, dancers. Sign-ups 7:00pm; performances 8:00pm
2nd & 4th Fridays 7:00-10:00pm
Christina Cultural Arts Center
Clifford Brown Performance Space, 705 N. Market Street Wilmington, DE 19801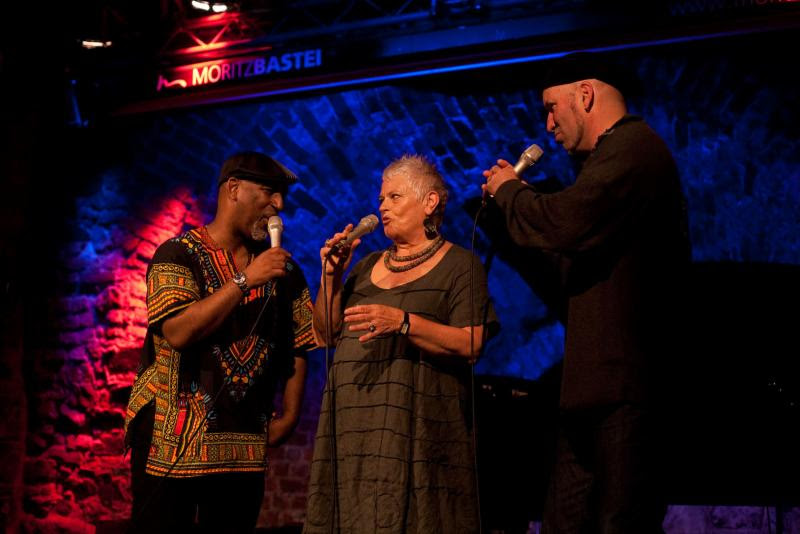 "WeBe3 is one of the freest musical experiences anyone will ever encounter, giving rare insight into the true art of vocal improvisation..."
- Bobby McFerrin
Friday, May 8, 2015
Tickets $15 Advance
$20.00 At Door
Christina Cultural Arts Center
Clifford Brown Performance Space, 705 N. Market Street Wilmington, DE 19801